Kukke Sri Subramanya Devasthana
Subramanya
Share on Social Networks
 Share
Details
Maha Ganapati: Umamaheshwara: Aadi Subrahmanya: Chandramouleshwara: Beedi Mukhyaprana: Kashikatte Ganapati: Kala Bhairava: Moole Mukhyaprana, Mule Ganapati: Ashwatha Narayana, Bhootha Hosathaliya: Kukke Lingam, Sri Subramanya God
Kukke Sri Subramanya Temple,
Sulya,
Dakshina Kannada
Subramanya:- 574238
Rail Road : Yeshwantpur (Via Mysore) Subramanya Road Railway Station Mangalore - Karwar, Mangalore - Subramanya Road Railway Station
Bus route : Yeshwantpur (Via Mysore) Subramanya Road Railway Station Mangalore - Karwar, Mangalore - Subramanya Road Railway Station
Car or rickshaw route : There is a private car / auto system in the field.
The way to walk : There is only a walkway for the Kumara mountain trekkers.
Morning time: 06:30
Afternoon time: 12:00
Evening time: 07:30
History
For women who were drunken to death, they had a quarrel in the color of a horse. Kadavu Kari Horse, quarreled, losers went home and took the language to be a maidservant. Kadrve told her children the serpents that you cut the horse and made it to poison with poison. If they do not agree, then your clan will be destroyed by the rage. Some carnivorous livestock may be lost in fear, in some holes, in holes, in the underworld, and in the underworld. One day, when Garuda came looking for serpents, he saw a lady who lived in a great hole and struck by a wicker with a stick and tried to slip through the nail, even though the serpent's glory was overwhelmed by the greatness of the serpent, If both of them are fighting to win one another, Kashyap will come and leave Vatsa Vasuki on Garuda, and you will not be able to walk in Shiva's Vasuki. Garuda was terrified to say that Kashyap was greeted and said, Swamy, what can I do with the hungry? Garuda, you go to Ramanaka Island and live in love with a Brahmanadman in the liquor of the evil spirits and serpents. Spell him when he thinks that he is the Brahmin who burns your throat while eating anything. Please tell me not to walk, and you will be able to go to the famous Kumara field of Sahyadri and worship Lord Parameswara with devotion. You have no fear of Garuda anymore. He sent out the blessing of Parameswara as Lokpal. Vasuki bowed to Kashyapa and came to the Kumara field as a family and was able to surrender the Shaiva Vratam, tortured, greeted, and worshiped Parameswara in Tirakala, abandoning food and sleeping. You have made a glimpse of Parameshwara, who is a saint. In the next notion, the son Shanmuku comes to this field by destroying Tarkaki demons. Mahendra then donates his daughter Deva Sena and performs a welfare festival in this area. Then you become a Lokpal in his field, in the field of Shanmuga. Whoever publishes you, let him prepare for the rich. Let all the rituals of the sun be used to serve you. This holy place from your residence will soon lead the Nikhil siddhas. You will not always be afraid of the blind. Be strong in my Padabja. Reside in this field, enjoying all the benefits as a family. Define and hold the intermediate. Vasuki of the saparaja was living in the place of the original Subramanya, uniting with the blessings of happiness.
Photos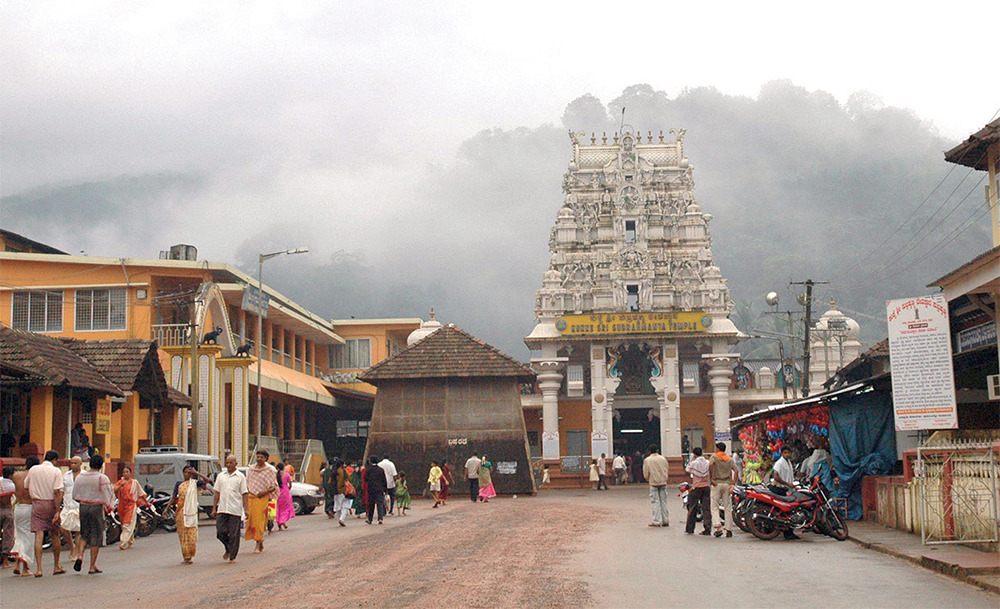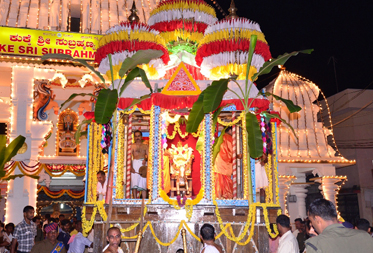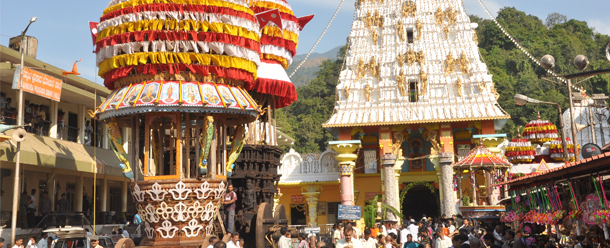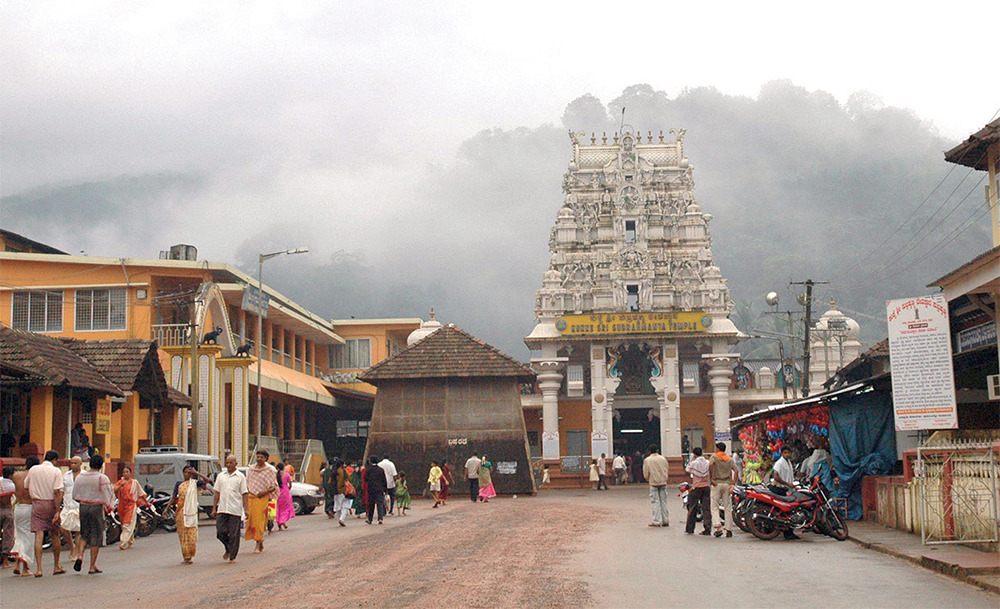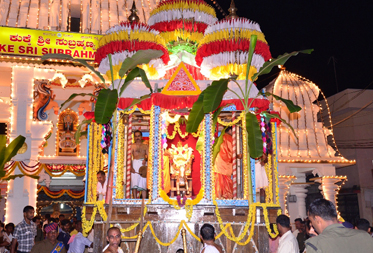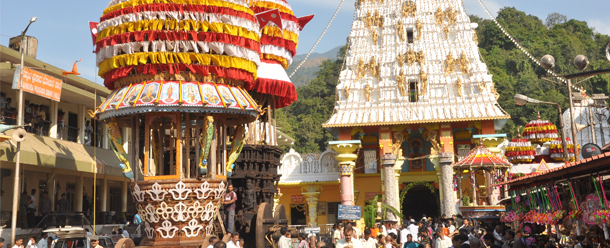 Basic Facilities
Cleanliness Housing house Drinking water Separate toilets Bathroom Room to change clothes Shadow system Queue line system The custodial action of the fair Dasoha system Garden / Gardening Public Information Center Anna Chhatra Hall of Ceremony
Features
Computer Billing Software Internet Cc camera Security Guard Office Staff Priest Cleanliness staff
Pooja Details
1. Maharathotsava (25000.00) 2. Chikka Rathothsava (8000.00) 3. Chandramandala Festival on the street (6000.00) 4. Beediyalli hoovina therina uthsava (5000.00) 5. Rajanganadalli shesha vahanayukta bandi uthsava (3000.00) 6. Panchamratha Maha Abhisheka (6000.00) 7. Deeparadaneyuktha Pallakki uthsava (2500.00) 8. Pallakki uthsavayuktha Mahapooja (1500.00) 9. Idee dinada saparivara sankshiptha seva (2000.00) 10. Mahapooja (whole day) (400.00) 11. Mahapooja (afternoon cost) (250.00) 12. Pavamanayuktha Panchamruthabhisheka (100.00) 13. Kalashapujayuktha Panchamrutabhisheka (100.00) 14. Panchamruthabhishekha (75.00) 15. Rudrabhisheka (75.00) 16. Khirirabhisheka (50.00) 17. Shesha Seve (100.00) 18. Harivana Naivedya (100.00) 19. Karthika Puja (50.00) 20. Panchakajajaya (15.00) 21. Chitranna Samarpane (100.00) 22. Halu payasa (100.00) 23. Sahasranamarchane(25.00) 24. Ashothara Santarpane (20.00) 25. Mrushtanna Santarpane (500.00) 26. Santarpane(for 8 people) (200.00) 27. Nandadipa (1 month) (400.00) 28. Dolothsava (300.00)
Bank Details
(1) Bank Name: Indian Overseas Bank, Account No.: 018501000010001, Address: Subramanya, Branch: Subramanya, IFSA Code: IOBA0000185 (2) Bank Name: Vijaya Bank, Account No. 140901010000001, Address: Rathabeedi, Subramanya, Branch: Subramanya, IFS Code: VIJB0001409 (3) Bank Name: Syndicate Bank, Account No. 02572160000012, Address: Main Road, Subramanya, Branch: Subramanya, IFS Code: SYNB0000257 (4) Bank Name: Corporation Bank, Account No: 520101008956967, Address: Kashikatte, Subramanya, Branch: Subramanya, IFS Code: CORP0001833 (5) Bank Name: State Bank of Mysore, Account No.: 64129653506, Address: Rathabeedi, Subramanya, Branch: Subramanya, IFS Code: SBIN0040951
Related Temples (Category - A)
Reviews
Very Good
5.0 / 5.0
4% People recommend this place
Very Famous and worth coming.Everyone should visit this beautiful temple and the place. This place is like heaven.